Mapping Portal Users to Zoho Vault
Once you have
Connected
and
Configured
Zoho Vault it is now time to map your Portal Users to their Chambers.
Head to ZPortals>User Management>All Users and find the user you are wanting to map and click the eye icon.


Then click on the Vault Chambers tab and toggle on Secret View, Add, Edit and/or Delete permissions and check the Chamber you want to connect to them.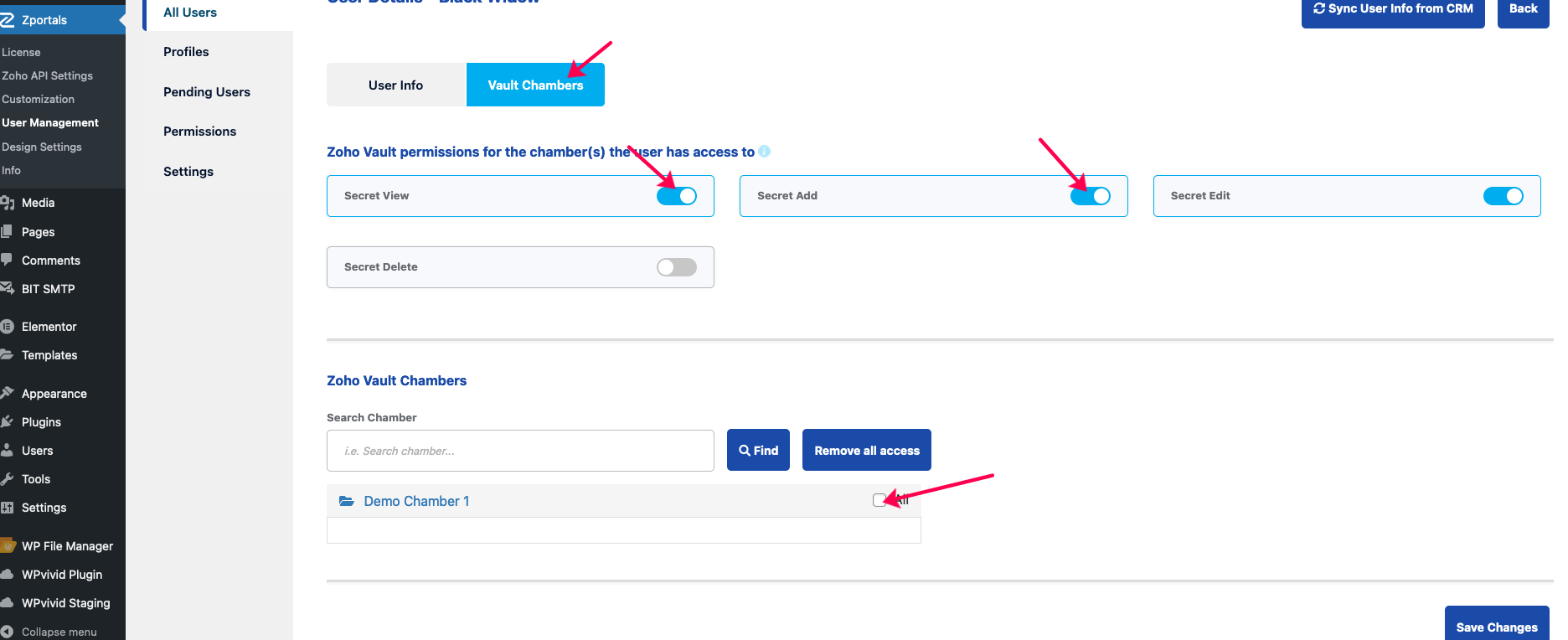 We do not create Vault Chambers automatically. You must create them before mapping.

Consider using Zoho Flow to automatically create your Chambers.
Related Articles

Configure Zoho Vault

This integration will allow your Users to share, view, edit and delete passwords within the shared chamber(s). An integration between Zoho CRM and Zoho Vault is not required. Requirements: Connect Zoho Vault Authorized Zoho User's Passphrase ...

Zoho Books

Use this integration for frontend Users to see transactions with your organization and allow them to make online payments (make sure to configure a payment gateway first in Zoho Books). Follow these steps if Zoho Books was enabled in the Zoho API ...

Configure Zoho Subscriptions

Use this integration to allow Users to view and edit Zoho Subscriptions right within the portal. Zoho Subscriptions is part of the Zoho Finance Suite of products so please ensure that the apps are integrated with Zoho CRM. This integration is not ...

Configure Zoho Sign

The Zoho Sign integration displays Zoho Sign documents that were sent from the Zoho CRM Marketplace extension. Users will be able to view and download a PDF of the document that is related to them in Zoho CRM. Ensure that Zoho Sign's extension has ...

Configure Zoho Inventory (eCommerce)

This integration will allow Users to access an online store and purchase products directly from Zoho Inventory. Zoho Inventory is part of the Zoho Finance Suite so make sure the app is integrated with Zoho Books and that Zoho Books is integrated with ...