Settings (Activate Modules)
You now have the Zoho apps you intend for users to access integrated with Zoho CRM and have connected said apps in the Zoho API settings section of the plugin.
The next step in the process is to enable and customize each of the Zoho apps previously connected along with any of the Zoho CRM modules.
As per the definition of a module, this is a group of data records housed within Zoho CRM. Note that you will see "modules" created from integrations, i.e. Projects, Visits and some of these will not be available to configure properly in the portal.
Only toggle on native Zoho data modules, including custom modules that you wish to display to the user:
As you toggle them on, a pop up will ask you to select the User Profiles that should have access. You will notice that the modules are added to the menu list on the left under General Settings:
Once you have enabled the modules as menus select "Update" at the bottom right: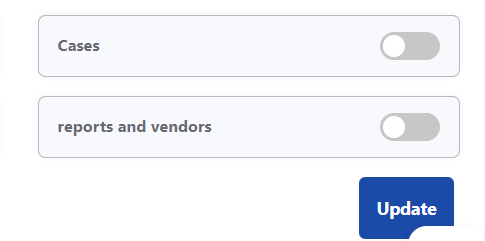 Webtabs were a place to input external links or CRM URL fields (Account, Contact or Vendor specific depending on the Portal Type) and display them as menu items. These have been replaced by Custom Pages.
You can edit existing webtab's link setings, how to open them and edit User Profiles. You can delete existing webtabs but n
ote that you can no longer use the "Add Web Tab" button.
The admin can designate menus to be visible or not by User Profile (see more info on Profiles here):
Related Articles

Advanced Settings and More

Advanced Settings In Customization - Settings - Advanced the admin will have the option of enabling "Show Multi Currency" and this will sync from Zoho CRM - Setup - General Company Details - the Currencies tab. Once toggled on, modules containing ...

Configure Zoho Inventory (eCommerce)

This integration will allow Users to access an online store and purchase products directly from Zoho Inventory. Zoho Inventory is part of the Zoho Finance Suite so make sure the app is integrated with Zoho Books and that Zoho Books is integrated with ...

Configure Zoho Workdrive for Zoho CRM extension

Configure with Zoho Workdrive for Zoho CRM extension Requirements: ZPortals with Zoho Workdrive connection authorized. Zoho Workdrive for Zoho CRM Extension Zoho Workdrive Team Folder ID Zoho Workdrive Parent Folder ID This only applies to the ...

Custom Pages

*As of ZPortals' version 4.3.0, Web Tabs have been replaced with Custom Pages. Throughout the Customization menu, a new page can be added using this button at the top right: This feature gives the admin the flexibility to add custom menus that are ...

Public Access

ZPortals allows you to create a public directory of a CRM module that is available to all of your website visitors (not only portal Users). It can solve for real estate agents that would like to show open properties, companies that sell products and ...