Custom Dashboards for Profiles
You can now also create different
Dashboards
for each User Profile you create.
To read more about User Profiles check out our articles:

Once you have created your profiles follow these steps to create the custom Dashboard.

Set Dashboard (

ZPortals > Customization>Dashboard Content

)




Click New Dashboard.




From here you can clone an existing one or start with a fresh blank one.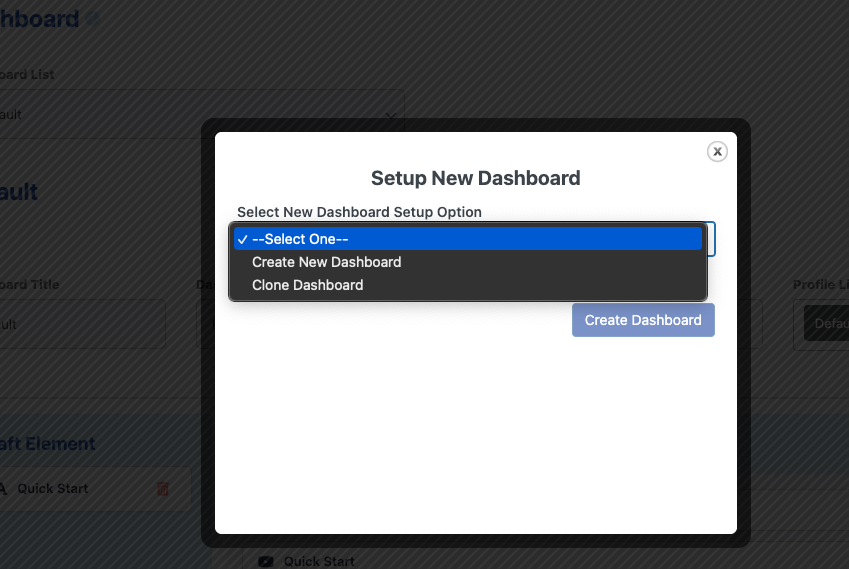 Choose which Profile you want to assign this dashboard to


You can then set your elements as you normally would.
Related Articles

Custom Pages

*As of ZPortals' version 4.3.0, Web Tabs have been replaced with Custom Pages. Throughout the Customization menu, a new page can be added using this button at the top right: This feature gives the admin the flexibility to add custom menus that are ...

Settings (Activate Modules)

You now have the Zoho apps you intend for users to access integrated with Zoho CRM and have connected said apps in the Zoho API settings section of the plugin. The next step in the process is to enable and customize each of the Zoho apps previously ...

iFrames

iFrames are a popular feature for displaying Analytics dashboards, Creator Forms, internal Wordpress pages or external iFrames provided the external websites permits the URL to be iFramed. You can use iframes both as an element or a Webtab as a menu ...

Data Relationships / Lookups

The thread that weaves data together in Zoho CRM and in the plugin will be the Contact record and the needle will be lookup fields, to the Contact from Zoho CRM and the Data Relationship options in the plugin. Settings General Settings, toggle on the ...

Configuring Zoho Books

Settings: To begin configuring Zoho Books transactions within the portal, enable the collapsible main tab for the front end User by toggling on the "Billing" menu: Toggle on or off the transaction types that your User should see and give them a ...