Install ZPortals in WordPress
In the WordPress admin, follow these steps to install the ZPortals plugin that you downloaded locally:

Go to "Plugins" on the left side of the menu and select the "Add New" sub menu

Click on the "Upload Plugin" button at the top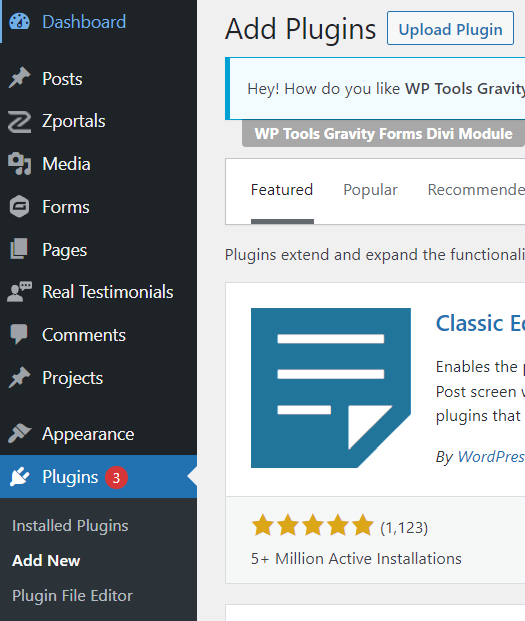 Upload the plugin by choosing your downloaded zip file and select "Install Now"

Click on the "Activate Plugin" button
Related Articles

Installing Wordpress

Before you can install the ZPortals plugin you need to install and set up Wordpress. Most hosting companies offer a 1-Click installation, however not all do. Here are the various different ways to get started with Wordpress: Domain vs Sub Domain We ...

Install and Configure Theme

When you first install Wordpress it comes with a standard theme with very little capabilities. Nearly, every time this is changed, to give you a bit more control over the design of your site. ZPortals works with any theme available in Wordpress, ...

Add Wordpress Page(s)

First thing first, Grab your shortcode. Navigate to ZPortals>Info>Portal Page Setup and copy your shortcode. The procedure is the same for both the Portal shortcode and Ecommerce shortcodes Once you have your shortcode copied navigate to the Pages ...

Requirements for ZPortals

In order to set up and use ZPortals you will need to have the following: Paid Version of Zoho CRM (Zoho One, Standard, Professional, Enterprise, Ultimate, CRM Plus) Wordpress 5.7 (Installing Wordpress) PHP 7.4 or higher No duplicate Contacts in CRM ...

Input License Key

Once the plugin has been activated, a ZPortals menu will have been created in the WordPress admin. Input the License Key (provided in the ZPortals portal menu, "Licenses") Note: make sure to remove any extra or trailing spaces that may have been ...